Exploring Christmas Effects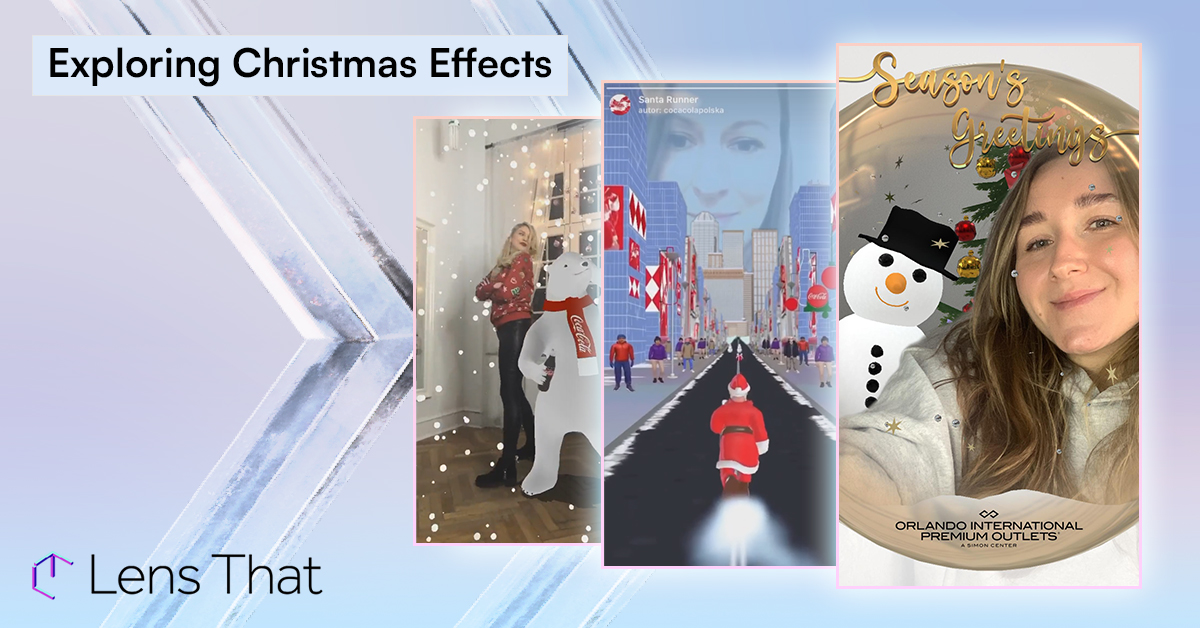 The holiday season is undoubtedly one of the most competitive times in the retail world. With consumers bombarded by festive promotions and deals, it's crucial for brands to stand out and leave a lasting impression. AR, with its immersive and interactive features, offers a unique and exciting way to engage your customers. The good news? It's not too late to incorporate AR into your Christmas campaign – so let's get inspired and see what's possible in this space!
Christmas Lipsync for Warner Music
Last year, we partnered with Warner Music to celebrate Christmas in a truly joyful spirit. It's not just about watching – it's about participating. This lipsync effect placed people at the center of the action, encouraging them to get involved, sing along, and have a blast, all of this accompanied by the greatest Christmas hits. We knew that something this personal would end up being a true success. This AR effect turned viewers into active participants and encouraged them to share their experiences, thereby increasing brand exposure and engagement. People enthusiastically shared their lip-syncing endeavors with friends and family, transforming them into true carolers, and spreading the holiday cheer.
Coca-Cola Polar Bear
Our Coca-Cola collaboration brought the magic of Christmas to life. People could engage in a dance-off with Coke's iconic polar bear, experiencing the festive spirit from anywhere, anytime. Imagine the impact of such immersive brand interaction. This AR campaign boosted brand visibility, forged emotional connections, engaged a global audience, and associated Coca-Cola with the season's joy. In a nutshell, our AR campaign danced its way into hearts and homes, enhancing brand image and connections in the process.
Christmas Postcards for Simon Property Group
Simon Property holds the prestigious title of being the largest owner of shopping malls in the United States. In this collaboration, we joined forces to create four unique Christmas postcards. Subtly branded, they were designed for easy sharing, spreading holiday joy, and increasing engagement. Each AR card offered a unique visualization. Have you ever dreamt of stepping into a snow globe alongside a cheerful snowman and a beautifully adorned Christmas tree? Or perhaps you've envisioned capturing a photo with the iconic North Pole sign? This collaboration made these dreams become a reality.
Winter in Dublin
Our World Effect for Winter in Dublin was a vital part of their tourism campaign during the winter season, offering people a magical glimpse of this must-visit destination. Creating this activation was quite challenging since our studio had to come up with a creative workaround due to the current lack of a sky segmentation feature on Facebook and Instagram (hopefully, this feature will be available soon). In reality, there's nothing our studio can't achieve even with facing challenges. Discover how we brought the 'Winter in Dublin' effect to life here.
Santa Runner for Coca-Cola
Perhaps you want to hook the audience and spark some healthy competition? There is no better way to do this than to create an AR game and that's what we did with Coca-Cola. Santa Runner was full of Christmas visuals and the mission was simple: collect gifts, navigate obstacles, and race for those precious points. These games offer a dynamic way to engage your audience, making your brand an integral part of their entertainment. Plus, they provide the ideal platform for hosting exciting contests, complete with tempting prizes. And to be honest they can be created for any occasion.