Winter Wonderland in Dublin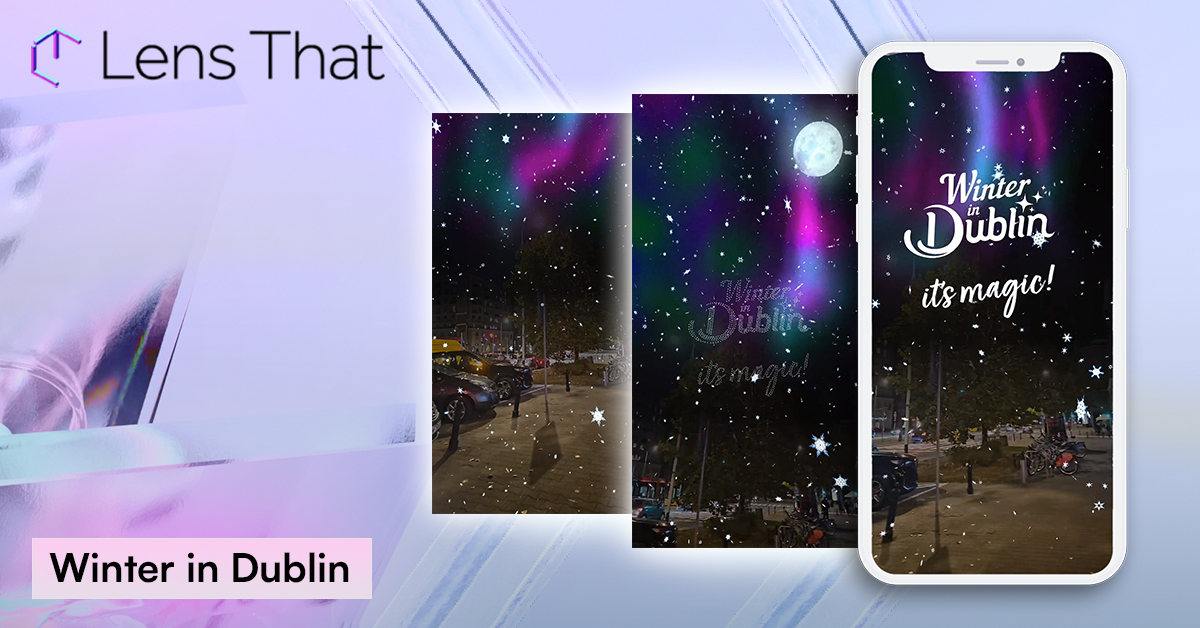 In partnership with "Visit Dublin", we wanted to bring a Christmas spirit to the streets of the city. The AR effect was designed for Instagram and Facebook, utilizing its AR capabilities to create a winter wonderland experience for users. Our primary goal was to transport users into the heart of Dublin's winter charm, complete with snowfall and a breathtaking night sky adorned with stars and aurora borealis.
Upon opening the "Winter in Dublin" AR effect, users found themselves surrounded by a realistic snowfall. The night sky captivated users as stars glimmered and danced with mesmerizing aurora borealis. This picturesque view alone set the stage for a memorable AR journey, but our technological feat did not end there. The most captivating moment of the AR experience was when the stars gracefully converged to form the "Winter in Dublin" logo across the virtual sky. This seamless transformation left the users with the impression that indeed, "It's magic!".
The technological prowess of this campaign lies in the ability to create the sky effect without the aid of the sky-segmentation feature, which is not available on Instagram/Facebook. Undeterred by this limitation, our team devised a workaround. To achieve the mesmerizing night sky, we constructed a virtual 3D dome around the user. This dome acted as the canvas for the stars and aurora borealis, giving users the sensation of being fully encompassed by the night sky. The absence of sky segmentation did not hinder our creative ambitions; instead, it propelled us to think outside the box and innovate in unprecedented ways.
The experience not only enhanced the brand's reputation but also created a strong emotional connection with the audience. The ability to transport users into the heart of Dublin's winter charm allowed us to evoke a sense of nostalgia and longing for the city. Moreover, the seamless integration of the "Winter in Dublin" logo into the AR experience served as a subtle yet effective branding opportunity, reinforcing the brand's presence in the minds of users. As a result, this AR campaign not only generated engagement and excitement but also elevated the brand's visibility, making it a memorable and magical holiday promotion.