Johnnie Walker AR mural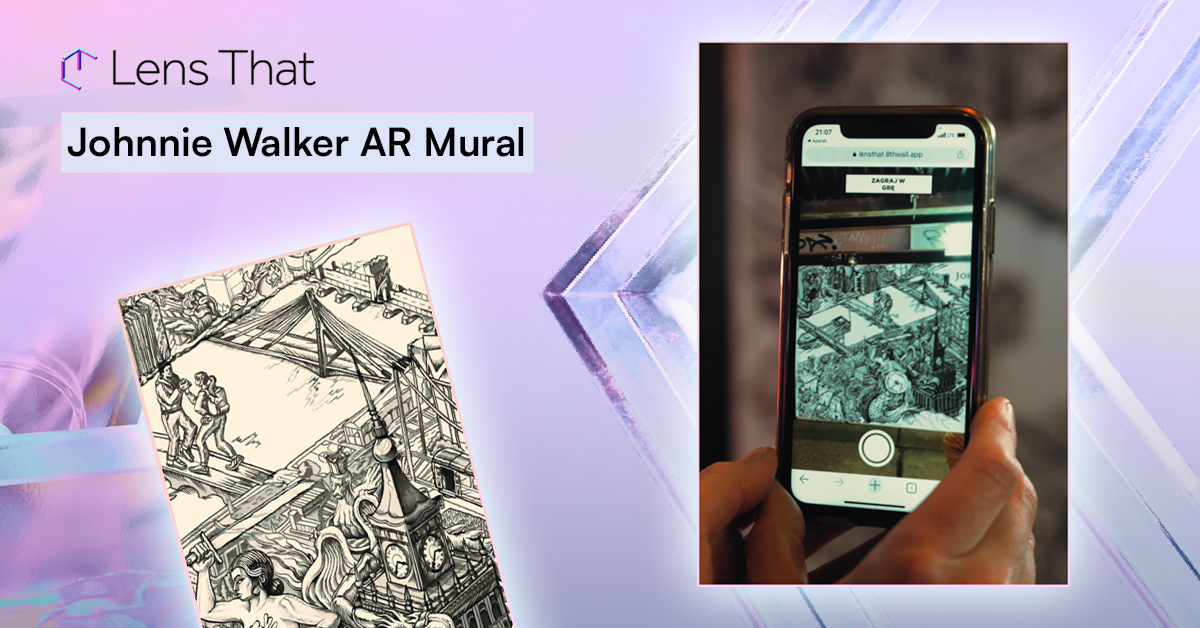 Created in collaboration with a PR firm MSL and a talented illustrator Lis Kula, this AR project made a Warsaw-themed Johnnie Walker mural come alive.
The campaign
The leading idea of MSL PR agency's "City Walkers – undiscovered paths" campaign for Johnnie Walker, which took place in the summer of 2022, was to inspire audiences to explore previously unknown stories proving that uncommon experiences and challenges are a good opportunity to grow and get closer to realising one's dreams.
An inspirational 4-episode series was produced for social media revolving around 4 local urban talents coming from various cultural territories, such as music, video, theatre etc., but commonly embodying the "Keep walking" spirit by enjoying life to the fullest and making courageous decisions that enrich their lives. The series linked the online consumer journey with offline activities in branded "hotspots" – zones in popular, outdoor places in Warsaw, Krakow, and Tri-City, and on music festivals.
The mural
Alek Morawski, aka Lis Kula, is an acclaimed illustrator, a designer behind many music album covers, an author of visuals for numerous brand campaigns, editorials, and urban initiatives. In his creative work he puts emphasis on details and completeness of his compositions. His distinctive style draws mainly from cartoons and old Polish comic books.
His contribution to the "City Walkers – undiscovered paths" was designing the packaging of the limited edition bottle – the product that was the main focus of the campaign – and creating two Warsaw-inspired murals in city's hotspots. These artworks also promoted the Johnnie Walker and Air Ink partnership – murals were painted with innovative ink made by condensing carbon-based gaseous effluents generated by air pollution due to incomplete combustion of fossil fuels.
The AR experience
Lens That AR creative studio put 8th Wall's capabilities to use and developed an AR experience that brought the murals to life. After target tracking was used on either of them to unlock the AR effect, buildings, objects, vehicles, figures went into motion: changed their size, changed their position, animated, shifted perspective, interacted with each other – all to give the 2D illustrations a 3D depth, to bend the user's perception, to provide an experience that merges the online with the offline.
Additionally, to further increase the engagement, we included a gamification module. We used an evergreen mechanics of "Where's Wally?" game and gave it a bit of a spin – while all animation sequences were happening, iconic Johnnie Walker figures appeared at random moments and places of the mural, and the user had to tap the right places on their screen to "collect" them. If they were successful, they were rewarded with a unique coupon inviting them for a free drink and/or a set of branded gadgets.
The reasoning
Some regulated products and industries, such as alcohol, tobacco, pharmaceutical medical products, gambling, etc., are not legally permitted to use AR to advertise on social media apps. Therefore, alcohol brands that want to use Augmented Reality in their communication can resort to either their own mobile apps or webAR solutions (both age-gated). Johnnie Walker decided to go with the latter – the brand did not have to develop its own costly application and run a costly app-install campaign, and the users did not have to install or download anything to access the experience, as a mobile web browser was all they required.
What it translated to was wide reach, high accessibility, high cost effectiveness, and reduced activation energy – all of which led to a low entry barrier, driving engagement with the brand's content.
credits:
MSL – https://www.facebook.com/mslgrouppoland
Johnnie Walker – https://www.facebook.com/HouseOfWalkers
Alek Morawski – https://www.facebook.com/liskula