Veclaim's AR-Infused Collections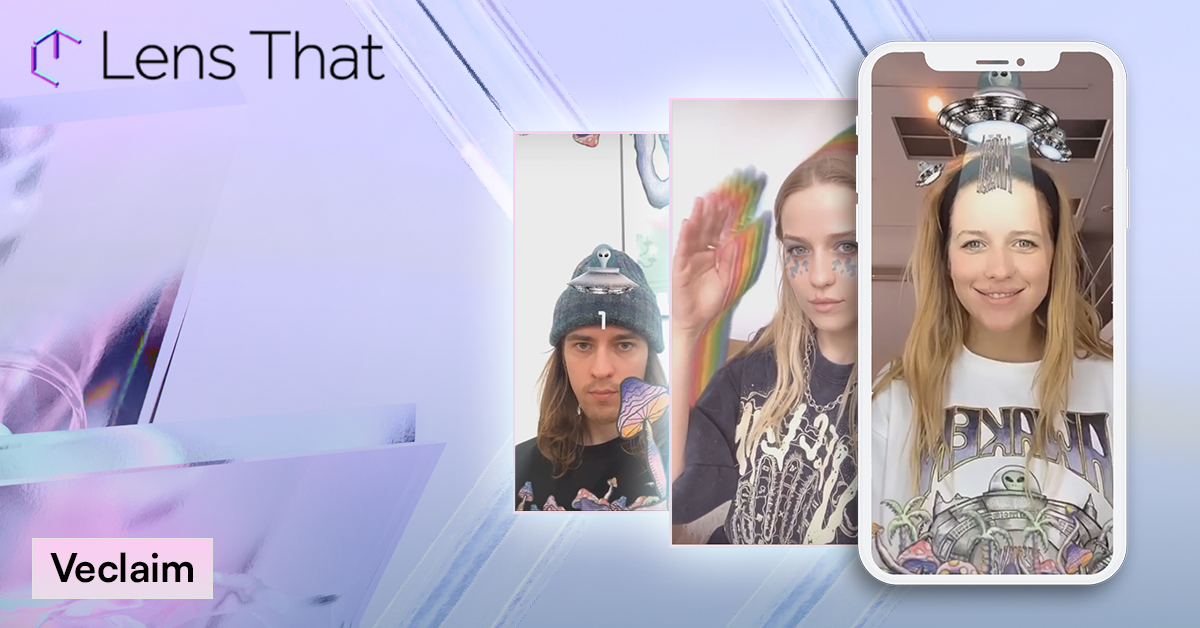 In the fast-paced world of fashion, staying ahead of the curve is vital. Veclaim didn't just aim to infuse their collections with a touch of magic and interactivity; they also sought to give their brand a unique and engaging edge. Our partnership with Veclaim led to the creation of a total of four effects, each designed to promote their three collections. The primary objective was to generate buzz around the new collection launch while also producing easily shareable and visually appealing content.
The Forest Mask
As users activate the effect, they find themselves within a lush forest. The users' faces are gently adorned with a captivating greenish glow, adding an element of mystique and fascination to their selfies. What sets the Forest Mask apart is its ability to seamlessly incorporate the brand's nature-inspired aesthetics into users' selfies. In this enchanting digital realm, the intricate mushroom designs, inspired by the iconic imagery found on their t-shirts, become an integral part of the forest backdrop. This integration reinforces the brand's visual identity, enhancing the experience and creating a unique connection between users and the brand.
The Valley Mask
For this collection we created a dynamic aura left behind a colorful trail, enhancing the user's visual experience. Designed to align with the collection's theme centered around the energy of people, the Valley Mask provided an opportunity to establish a deeper connection.
The design of this effect incorporated the same charming mushroom imagery found on the brand's t-shirts, creating a seamless connection between the AR experience and the collection. These mushrooms not only mirrored the key design elements of the t-shirts but also served as a visual representation of the collection's vibrant and energetic theme.
Awaken Collection
For the "Awaken Game" collection, Veclaim introduced two compelling AR experiences that added a touch of magic and interactivity to their campaign. The first was a mesmerizing selfie effect that quite literally brought the design from the t-shirts to life. Users could see an alien character accompanied by an alien crown hovering above their heads, creating a captivating and immersive connection with the collection's theme. The second experience was a delightful flappy bird game that featured the same iconic alien character inside a UFO, alongside the beloved mushroom designs that had been prominent throughout previous collections. This collaboration shows how AR experiences provide an excellent opportunity for brands to maintain visual consistency across their physical and digital presence. By seamlessly integrating key design elements from their collections into the AR effects, brands reinforce their visual identity. This consistency aids in brand recognition and ensures a memorable and cohesive customer experience.