Coca-Cola in the Augmented Reality Universe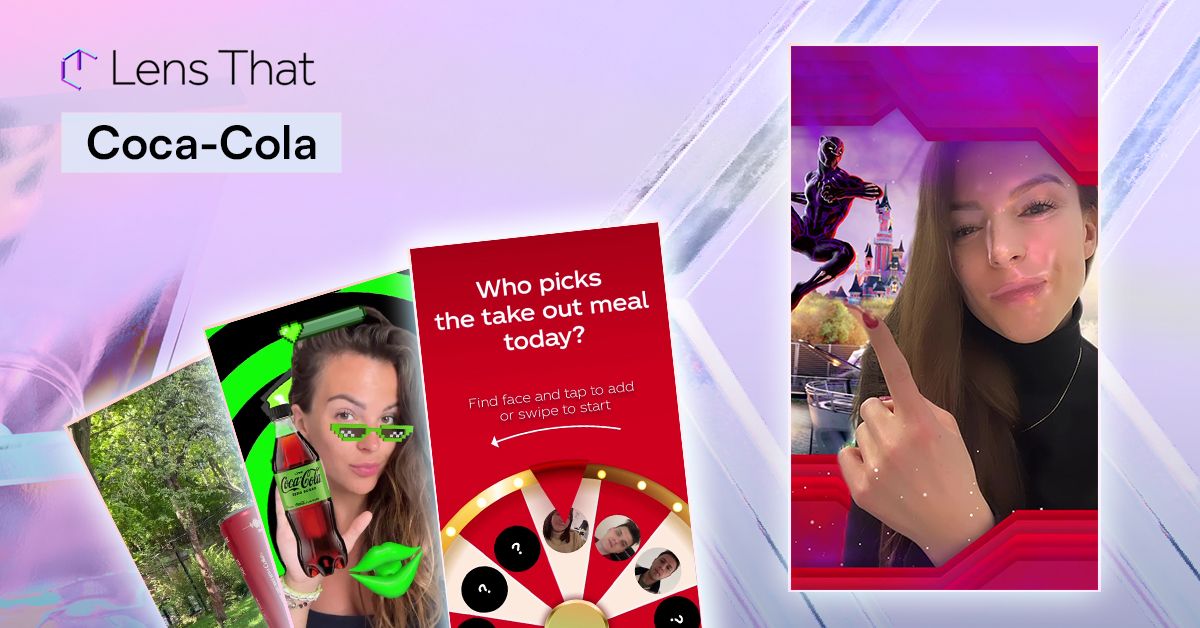 The Coca-Cola Company has been around since 1886. That's an impressive legacy, isn't it? This enduring brand has demonstrated its ability to evolve with the times, and it was only a matter of time before it made its mark in the world of augmented reality. We saw this opportunity and couldn't let it pass us by. The following examples illustrate our exciting collaborations and how we've seamlessly integrated the Coca-Cola brand into the realm of extended reality.
Coca-Cola Roulette
Coca-Cola continues its global expansion, and we're excited to announce the launch of our innovative roulette-style lens on the South African market. This unique lens allows you to invite up to 12 participants, and it is designed to randomly select the perfect person for various activities, such as picking up meals for the group to enjoy their Coke with. This engaging experience presents an exciting opportunity to add variety to your social gatherings, even during at-home parties with friends.
Cola x MARVEL for Disneyland
This unique experience was created as a result of a partnership between Coca-Cola and Marvel. In this limited edition series, every Coca-Cola can featured six specific QR codes, each triggering a distinct special effect. 6 different codes meant that you could see 6 different Marvel superheroes. This collaboration offered customers the opportunity to participate in an exclusive lottery, with one of the exciting prizes being a trip to the Avengers Campus at Disneyland Paris.
The DJ Deck for FCB Africa
FCB Joburg and Coca-Cola's BeatCan campaign celebrated youth through music, encouraging them to express themselves by creating music on a Coca-Cola can at a time. The campaign featured an AR effect in the form of a DJ deck with four buttons, enabling users to generate over 10,000 unique sounds and tracks.
This AR experience, as an innovative part of the whole campaign, was awarded a Silver at the 2022 Cannes Lions Festival and garnered two shortlist nominations for its innovative use of music and audio.
Cola ZERO Sugar Lime
Coca-Cola's dedication to showcasing different versions of its famous beverage remains unwavering. Our AR experience enabled users to visually express their amazement when enjoying Coke Zero Sugar. Users had the flexibility to select their preferred facial effects, including the option to combine multiple styles. This AR experience seamlessly aligns with the campaign's visual theme, while simultaneously granting users a chance to express their individuality, a feature that holds particular significance for the Gen Z audience.