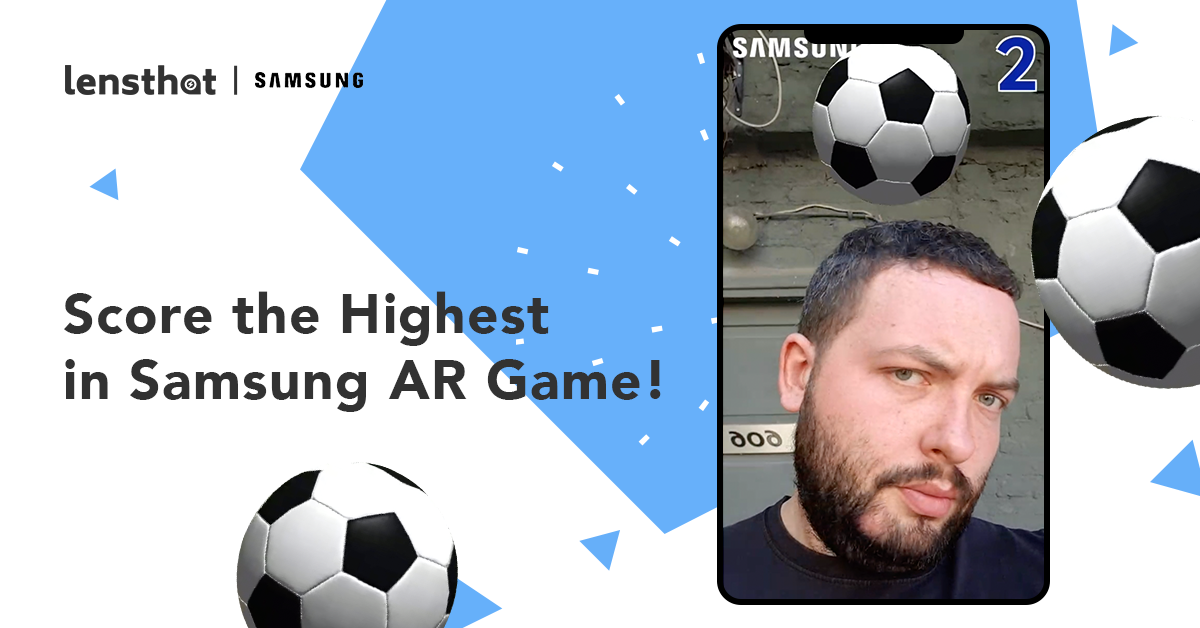 Take Part In Samsung's Messenger Activation
Contact the chatbot, use your head as a game controller to bounce the ball keepie uppie style and be careful not to drop it. Challenge your friends with your highest score!
Who is the best?
For the 2018 World Cup, Samsung Poland chose to give their Facebook fans a special opportunity to test their own football skills with the AR game, which let them win a brand new Galaxy 9 as a prize.
The game inside Facebook Camera was inspired by keepie uppie challenge, only this time you could only use your head. By moving it either side, you were able to bounce a ball up. The goal was to bounce it at least 3 times in order to have a chance of winning their flagship smartphone. Winning the keepie uppie game led to the last step, which was answering an open question asked by Samsung's Messenger Chatbot.

Here is what our Dev, Mateusz Ziemann had to say about the development of the game:
While it seems to be very simple, it required the physics, dynamics and collisions of objects to be written down manually, because they have not been supported by AR Studio yet. In a short period of time we were supposed to fill in the blanks and polish the effect to make the gameplay simple, pleasant and natural enough for the user. UX is the most important aspect of this kind of playable AR activations.

With our help, Samsung enriched their interaction with Facebook fans by introducing an innovative AR game instead of using another simple question-based contest and thus giving them small, but addictive and hard-to-forget challenge.
If you're looking for an effective way to engage your audience, a full-packed Chatbot + Camera Effect + Game combo is your path to go! Don't wait too long, the competition never sleeps. Hit us up at contact@lensthat.com and be first!