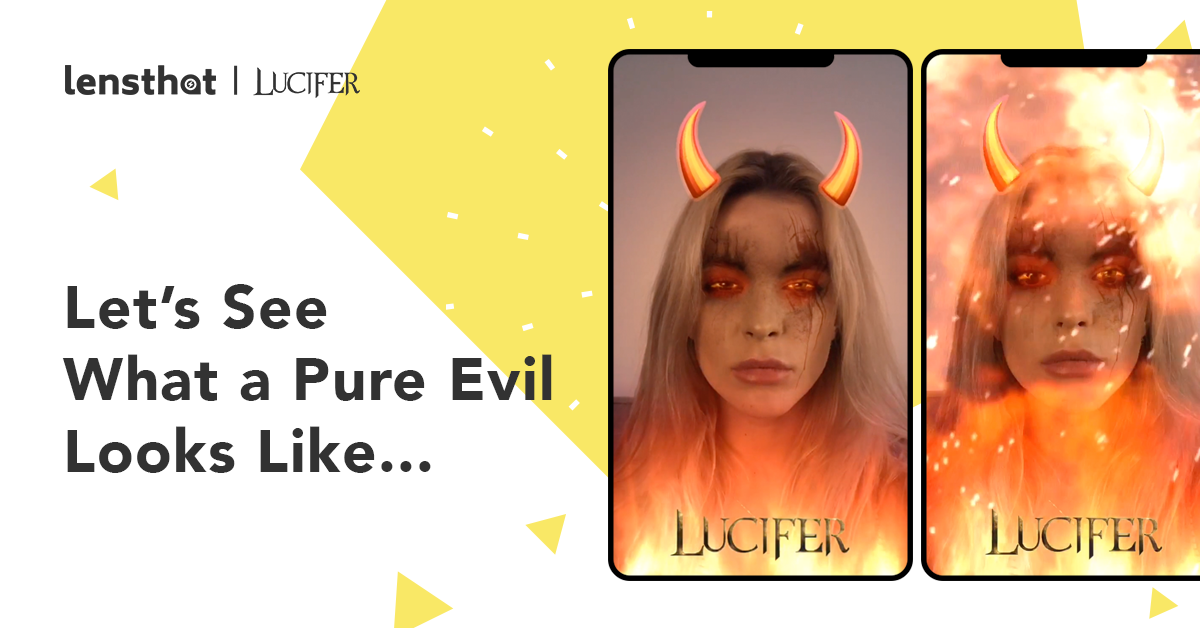 Let's See What A Pure Evil Looks Like With Lucifer
There is no need to be evil to become the Devil. Transform yourself into the king of hell by putting a Lucifer AR Effect on. Booyah! But if you're not sure about your destiny, you should see Lucifer's Messenger chatbot packed with content about the series' new season.
Hot, hot, hot?
One of this year's hottest TV premiers was the next season of Lucifer. The continuation
of the story about handsome Lucifer Morningstar was anticipated by many who got seduced by his charm. That was the opportunity to give them a way to get as close to Lucifer as possible.

Hello hottie!
We wanted to give everyone a possibility to become an evil-looking hottie among Lucifer's diabolical team. And when you turn evil, it's not only about the attitude or character. It also makes you look hellishly good.

This Facebook Camera Effect brings on the signature 3D devil's horns, destroys naturally innocent face of a typical human and sets the surrounding and the show's logo on fire with special effects applied on the screen. It also gives the user a special power to blow things up just by opening one's mouth!

More than AR
Part of this campaign was a Messenger chatbot providing users with a broadcast plan, trailer, characters' details and a quiz to tell if one is more of an angel or…a devil. This mix was as innovative and bold as the Lucifer himself.

Using Facebook Camera Effects, we brought up Lucifer's new followers. Thankfully, it's just an AR effect and no harm was made to anyone.
If you're looking for an effective way to engage your audience, a full-packed Chatbot + Camera Effect is your path to go! Don't wait too long, the competition never sleeps. Hit us up at contact@lensthat.com and be first!