HBO – Young Sheldon Case Study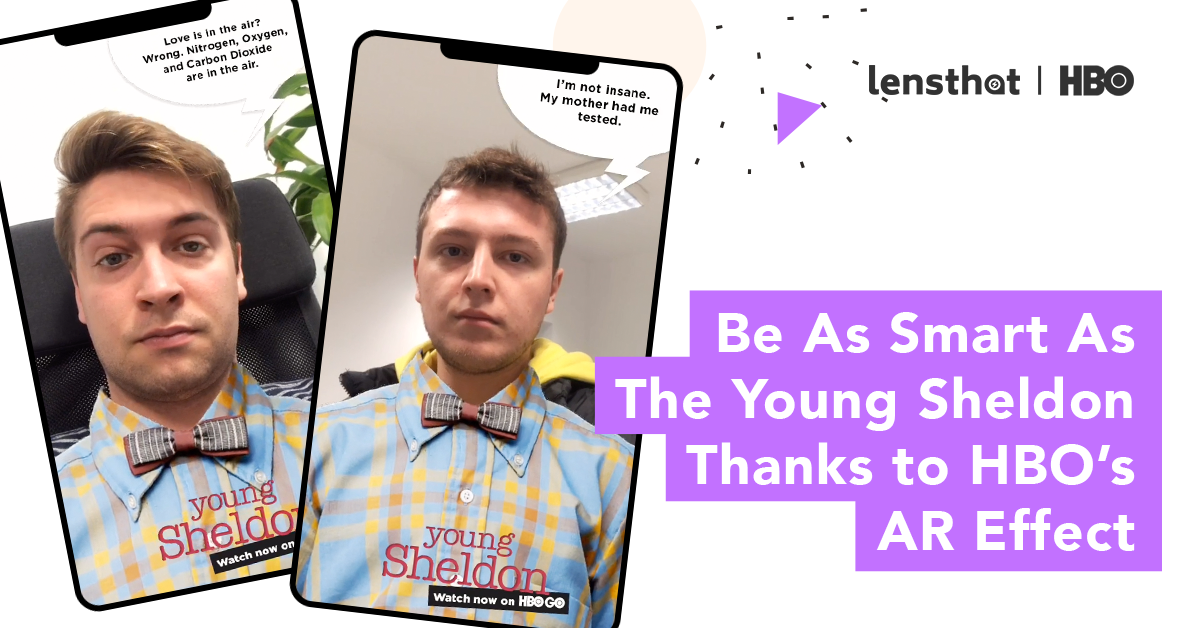 Thanks To HBOo's AR Effect, Everybody Can Be As Smart As The Young Sheldon

Go back to the early days and dig into the mind and personality of a TV legend. Become the Young Sheldon. Just raise your eyebrows to get clever with Sheldon's famous sayings!
Be as smart as Sheldon
Nobody is like Sheldon Cooper, since he is virtually smarter than everybody else on the planet. But also people love his personality, which we could get to know on the beloved show The Big Bang Theory. That's why many fans of the show were hyped to see the Young Sheldon series launching on HBO. We had a great pleasure to prepare a Facebook Camera Effect promoting The Young Sheldon series for 10 markets: United Kingdom, Croatia, Hungary, Romania, Slovakia, Slovenia, Bulgaria, Serbia, Czech Republic, and Poland.

Sheldon has always been a significant person. Even in his early days. Hard to live with but still loveable. So we asked ourselves a question: what if anybody could become the young Sheldon Cooper?

This Facebook Camera Effect was designed to represent both the inside and outside of Sheldon Cooper's personality. His smartness, neat shirt and a geeky bowtie. All these elements are part of one effect. User got dressed up just after opening the effect and summoned well-known quotes from Sheldon while raising one's eyebrows.

It was easy and fun to use by influencers who got engaged into promoting the new series. The results were great and cutting-edge because there hadn't been many AR + influencers activations on the market yet. You could be the next one to try it!
So, how it feels to be Sheldon Cooper? Pretty smart, huh?
And remember – no matter which sector you work in, if you love innovations in digital marketing, hit us up: contact@lensthat.com! Free mockup will be in your mailbox in max 48 hours.