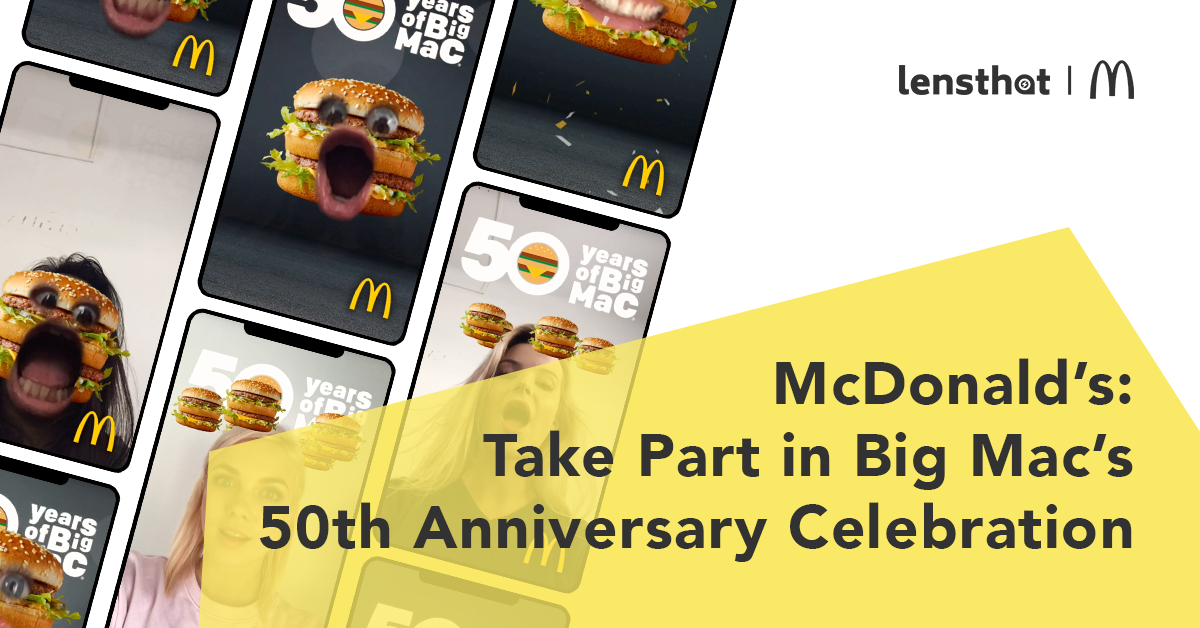 Become Part Of Big Mac's 50th Anniversary Celebration
Turning 50 can be tough for a burger.
But not for Big Mac!
We found a tool that let McDonald's celebrate their burger's anniversary with fans and friends using dedicated Facebook Camera Effect and many more fun-booster using a Messenger Chatbot!
Idea
The idea for Big Mac's 50th anniversary was to let everyone become the legendary Big Mac itself. But before that happened, we wanted to make sure everybody knows what happened during those 50 years and what are the best ways to celebrate.

We came up with a Messenger Chatbot with Big Mac's history, special lottery details, and a Messenger Game inside which everyone could test their own knowledge about what Big Mac is made from. This channel was also used to promote the birthday AR effect.

Let's pay attention on details…
McDonald's Facebook Camera Effect begins with a spatial aureole made of Big Macs floating around one's head. Opening one's mouth triggers a change. Big Macs disappear and the user becomes one him- or herself! Rising eyebrows triggers a celebration mode of the Camera Effect with cheering voices and confetti falling down.

We saw a large number of impressions, captures, and shares of this effect. This showed us that people love try-ons and having the availability to become the part of a branded activation.

What was essential?
What's important is that our Facebook Camera Effect was a native tool for younger audience of McDonald's campaign. It precisely addressed their needs by being an innovative, personalised, and very personal experience. Just like every other part of this activation delivered to McDonald's in Poland.

If you're looking for an effective way to engage your audience, a full-packed Chatbot + Camera Effect + Game combo is your path to go! Don't wait too long, the competition never sleeps. Hit us up at contact@lensthat.com and be first!